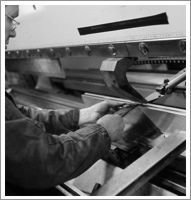 Manufacture Raymond was founded in 1990 by Richard Deguire. Building on the success of Vitrerie RD founded in April 1983, Mr. Deguire created Manufacture Raymond to complete the construction process and the service by offering balanced doors, metal products from steel sheet and other related construction products.
Our factory, now located on Boulevard St-Joseph in Lachine, has over 20,000 square feet. Several departmentsincluding all the necessary equipment are present such as the cutting room, welding, polishing, storage, metal extrusion department on CNC machine, and others.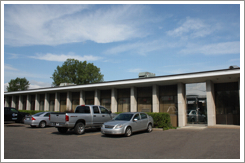 The office department staff and administration people are forming a competent team including project managers, designers and engineers using AutoCAD software for the realization of your projects. Always keen to remain at the cutting edge of technology, we offer our team a continuing education to stay current in the IT field.
Our staff assigned to our manufacturing and installation are dynamic and always work carefully applying rigorous standards of fabrication and installation requirements in our field. .


Achievements

Manufacture Raymond counts among its achievements and participation in projects such as the Montreal Casino, the Hull Casino, the "Centre Metaforia", the Canadian Space Agency, Nortel Networks and the World Centre in Montreal.




Annual contracts

We also have contracts on an annual basis with clients such as the University of Montreal, Canadian Pacific, the R.I.O., the municipality of Lachine, Verdun and Lasalle.


For more information about our company please contact us during our regular business hours by calling 514-634-5833 or by email at any time
info@manufactureraymond.com
.